You Have Probably Heard, About the Six Year Old Boy that actually got "Carried Away" He was said to have climbed into a Balloon and there was a huge chase. He was missing and everyone was worried he was Gulp Dead.
The Balloon Landed: Here is what www.guardian.co.uk has the say!

US homemade balloon lands, but six-year-old boy still missing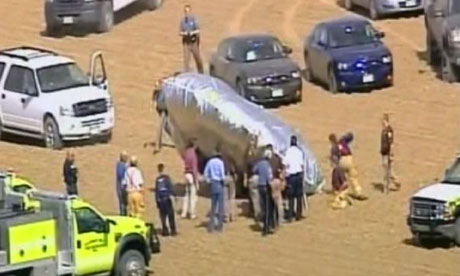 A homemade flying saucer-shaped balloon in which it was feared a six-year-old boy could have been trapped has been found to be empty after it landed in a field in Colorado following a desperate chase through the skies.
The silver, car-sized craft reportedly came untethered from the garden of the man who had constructed it. Reports named him as Richard Heene, an amateur science and weather investigator.
It was feared that Heene's son, Falcon, had climbed through an entrance into a small plywood-lined capsule at the bottom of the balloon, which was not designed to carry people, shortly before it drifted into the skies above Fort Collins, a town north of the state capital, Denver, at around 11am local time (6pm BST). Some reports said a sibling had seen Falcon climb in.
As the balloon drifted dozens of miles to the south-west, climbing hundreds of metres into the air, it was pursued by helicopters while emergency crews in ambulance followed its path from the ground.
But after more than two-and-a-half hours in the air, when the helium-filled craft drifted gently to the ground in a ploughed field, rescue workers found no one inside, television pictures showed.
It was not known whether the child climbed into the balloon, and so, whether he might have fallen out in mid air.
There were fears that flights from Denver's international airport could have to be diverted as the balloon began drifting towards its flight paths.
What an Adventure!
Is He Dead Or Alive?

Hold On, There is a brand new News Report.
Check Out This Video! Turns Out Guess What The Boy was Found!
If you watch the video all will be clear.
This is Neko and Teko, Heed Our Advice please: DO NOT GO INTO SILVER BALLOONS!