Vampire Knight
Total Dub Episodes: Ongoing Rated: Teen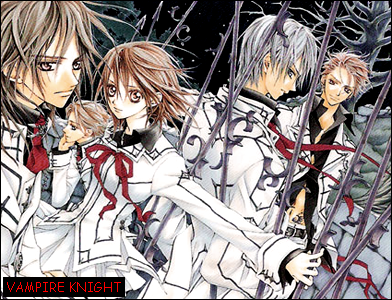 "Yuki Cross
' earliest memory is of being all alone on a snowy night in winter, when she was attacked by an evil "Level E"
vampire
and saved by a powerful but kind vampire named
Kaname Kuran
. Ten years later, Yuki, along with her childhood friend,
Zero Kiryu
are school guardians at the prestigious Cross Academy where her adopted father is the headmaster. The school is hosting an experimental program that is trying to prove that humans and vampires can live together peacefully, in a quest for coexistance." (wikipeda)
Link not working: mynekoanime@gmail.com (inlcude episode number!)

Episode 1
Episode 2
Episode 3
Episode 4
(When more Dubs are released I will post them!)
If you have found New Vampire Knight Dubbed Episodes Leave a comment in any post!