Kenya is located in the continent of Africa, The Coastline is dipping into the Indian Ocean. It shares a border with Uganda, United Republic of Tanzania, Somalia, Sudan and Ethiopia. Kenya is location on the Equator, guaranteeing warm, dry weather.
Let us explore Kenya, In Pictures, because as they say "A Picture is worth a 1000 words!"
A breeze blows, throwing fistfuls of snow across Mount Kenya which is cutting into the perfect blue sky. There is not much snow in Kenya, so the Mountain provides a rare sight.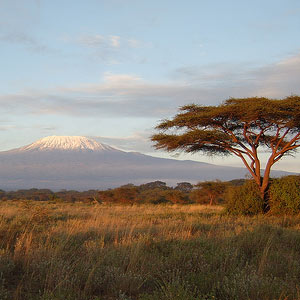 Mount Kenya's snow covered peaks are visible from a dry Savannah, A tree provides a gray blanket of shade.
A Giraffe stands by some lush plants. Stretching its elegant neck to sneak a peak at some visitors.
A white sand beach with Palm Trees shows the edge of beauty of Kenya.
An Elephant Proudly stomps in the dust. Mount Kenya is slightly visible in the background.
A herd of elephants, strolls through the lush grass. Little babies grip their parents tails.
A leopard sits neatly in the Kenya sun, soaking up the hot sun.
The Summits of Mount Kenya are surrounded by a white mist.
The Sun starts to set as zebras graze.

The red sunset announces the end of the typical day of Kenya.